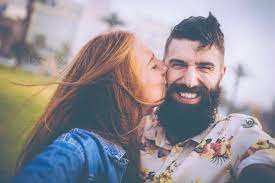 If like us, the only Glastonbury you'll be seeing is from the comfort of your sofa glued to the BBC whilst enviously deleting any of your Instagram friends who post another picture of festival flags or paper cups full of local cider.
Then fear not. Glastonbury might be the biggest festival around, but it isn't exactly the most romantic music shindig for a new pair of daters (unless you count a drunken snog with someone who hasn't cleaned their teeth for 3 days as the height of romance), which is why we have put our festival and slightly crazy coloured thinking caps on and found you the most intimate and date friendly festivals of 2013. Where there's muck, there's brass –
Set upon the stunning Yorkshire Dales, Beacons Festival hosts a fresh art and music boutique festival for the north. It's cosy, hipster-friendly and nestled in a small pocket of farmland in the rolling greenery of the Dales. The line-up is jam-packed with achingly cool buzz bands, leftfield legends and some of the best up-and-coming DJs around. Acts – Django Django, Local Natives + Bonobo.
Taking pride in the little things, the modest End of the Road festival is hosted in the perfect setting for a cosy retreat. The Larmer Tree Gardens is for music-loving, open minded and chilled out people to get together in the beautiful countryside whilst parrots and peacocks wander around. End of the Road hosts a list of acts that are as diverse as the festival goers around you. Acts – Sigur Ros, Belle and Sebastian, Dinosaur Jr + The Walkmen Y Not festival's intimacy, friendliness and spark sets it aside from the rest, making it worthy of the annual visit so many of the crowd favour. As well as a strong musical line-up, the festival also doubles up as something of a beer & cider festival,
offering a wide-range of local real ales, ciders and perrys. Y Not are also winners of the best small festival at the UK Festival Awards 2011. Acts – The Horrors, The Cribs, Mystery Jets + 65 Days of Static
Lovebox Festival. The glue that binds Lovebox together is the care and attention with which the acts and artists lovingly presented on dramatic stages against the beautiful backdrop of London's oldest public park. Add to that giant art installations and theatrical film-sets sourced from Glastonbury and Burning man plus random acts of absurdity, general silliness and barely controlled chaos under the trees and you start to get the picture. Always one of the most hedonistic of London bashes, Lovebox is London's annual urban disco. No mud, no wellies and definitely no camping! Acts – Goldfrapp, Mark Ronson, Lil Kim + Hurts.
Taking place alongside the famous Parisian snaking river, music can't get much more romantic than Rock en Seine. The great location of this festival provides a mud-free getaway in close proximity to a range of hotels – providing the perfect setting for an ultimate romantic retreat. They even accommodate you with free ear plugs, condoms and alcohol guidance! Snazzy. Rock en Seine has only just made it into double figures, and it has already mastered an expertly balanced line-up of rock with all its sub-genres, as well as European exclusives. Love will most definitely be in the air at Rock en Seine. Acts – Phoenix, System of a Down, Nine Inch Nails + Franz Ferdinand.