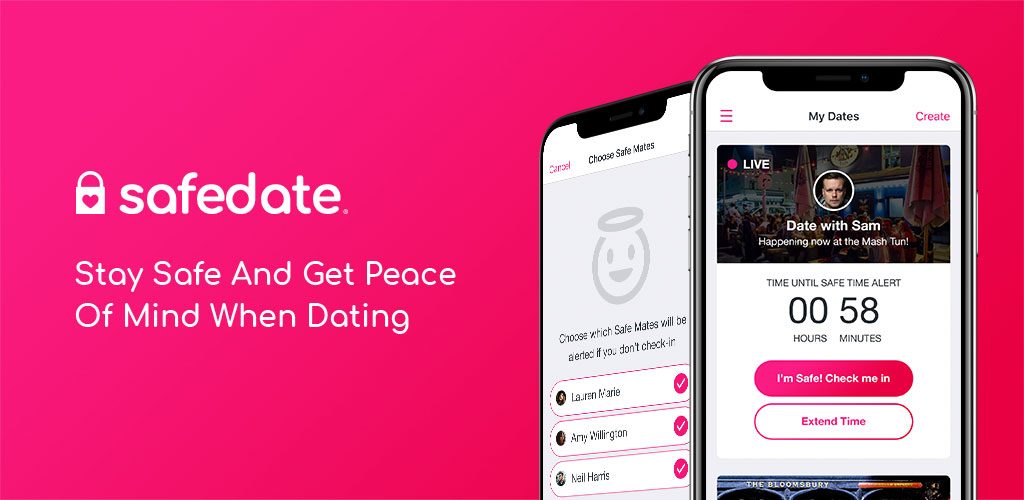 DATE SAFE –

At TrueView, we offer a unique service that gives you the control and provides you with a platform which enables you to connect and establish a relationship with the right people for you. Everyday, people up and down the UK are using TrueView to connect with new people, and so can you. Our company ethics revolve around offering support to people through this emotional journey. With the aim to offer a better experience online, we help you feel more confident and comfortable offline as well.
There are a few things you should bear in mind before getting started. When getting to know any potential new connections it's important to exercise caution, whether you meet them in a bar, through mutual friends, or through TrueView. To help you along the way, here are a few things you might want to consider:
CONTROL – 
Our priority is to make sure you have a safe, successful and stress-free experience with us. We strongly recommend that you stay within TrueView to spark up a relationship over a period of time, rather than giving out your personal contact details to people that interest you straight away. Remember, you are fully in control of your search and can choose to take things at your own pace.
KEEP IT REAL – 
Honesty and communication have often been viewed as the cornerstones of a happy relationship, so by being honest about yourself and what you're looking for right from the start, you'll have a better chance of meeting the right type of people. Research shows that members with photographs receive as many as seven times more responses to their profiles than those without. So be sure to take recent pictures that reflect you and what you like to do.
GET THE MOST FROM YOUR TIME – 
At TrueView we make it super easy for you to get up and running with building a profile. It's super easy to share the things that you love to do and build a dynamic profile that best reflects your personality. If somebody catches your eye, take a good look at their profile because personalising your introduction message is everything. A good way to start a connection is by chatting around common interests and experiences. It is about getting the conversation started, not revealing your entire life story – so leave something for you both to chat about next time. Make responding to your message as easy as possible by asking them some questions, it's important to remember that the person at the other end may be waiting for you to make the first move.
TELL US IF SOMETHING'S NOT RIGHT –

Get to know your connections before meeting them in person by exchanging messages through the TrueView message section. Help us to ensure the success of our community by alerting us if you come across anything you feel is not right. There are several options available to you if you are unsure about the profile or activities of others:
If you have viewed a profile that gives you any cause for concern you can click on the 'Report' button at the top of their profile.
If you receive a message that you deem to be inappropriate you can click on the 'Report' button by swiping left on the message and clicking 'Report'. Performing any of the above actions will flag the member causing you concern, and our moderators will not hesitate to help you quickly resolve any issues.
If you have any other concerns, drop us a line at support@trueview.me outlining your concern and we will act as quickly as possible.
TRUST YOUR INSTINCTS – 
Your common sense and instincts are a valuable tool in deciding whether to pursue a relationship. If someone you've never met or have recently made contact with asks you for money, they probably don't have the best intentions. Although scams are rare, it's still a good idea to be aware of how to recognise the warning signals, especially if you have decided to communicate with somebody privately outside of TrueView.
Requests for money or financial assistance are not acceptable. You should never send money to anyone you meet online; just as you would never give money to someone you recently met in a pub or cafe.
If someone avoids giving basic details about themselves, but asks you a lot of questions about your own situation, consider their motives. Don't be afraid to ask questions so that you can build up a real picture, and look out for any inconsistencies in the information they have shared with you. If you are suspicious, enter their name into an internet search engine, or report them to us.
If someone is genuinely interested in you, this will naturally develop into a decision to meet up with one another. If your relationship is solely via emails, text messages and phone calls and doesn't seem to ever develop into a face to face meeting, consider ceasing contact and focusing on other connections instead.
If you feel that you may have experienced monetary fraud, report it to Action Fraud using their online fraud reporting tool which is available here.
BE DATE SMART – 
Meeting for the first time can be extremely exciting, but be sure to keep your feet on the ground. Choose a public place to meet where you feel comfortable and secure. Cafes for example are great places for first dates. A cup of coffee can be a short encounter or a longer meeting, depending on how well you hit it off!
For your own safety, never agree to be picked up at your home, and always make sure you have a way to get yourself to and from the date. Tell at least one friend or family member who you are meeting, where you are going and what time you expect to return. Let your date know that the meeting is not a secret and that others are aware of where you are going.
Stay sober throughout the date as having one too many could impair your ability to make good decisions. Keep your drink and personal belongings within sight at all times, and always take your mobile with you. Most mobiles can make emergency calls even when locked, or out of credit.
LONG DISTANCE MEETINGS – 
Fifty years ago, the idea of 'courting' someone who lived in the next town (much less across the globe) was pretty much unheard of. Today, technology has made it possible to make new friends all over the world, and we constantly hear of inspiring long-distance and international stories. Exciting as it is, you should always take extra care and follow the tips below when travelling to meet someone for the first time.
Stay in a hotel. If you can't afford to stay in a hotel, don't go. Never stay at the other person's home on your first visit and don't get into a personal vehicle with someone that you are meeting for the first time. Use taxis to get to and from the airport.
Keep your hotel location private. Until you are completely certain of the person's intentions, don't reveal exactly where you're staying. Always tell a friend or family member who you are meeting, exactly where you are going, what you plan to do whilst you are away and when you plan to return. Keep in regular contact with this friend via text message or email and share information about your date with them.
Remember to follow all of the tips and advice on this page until you feel confident with your new connection. If the other person is sincerely interested in you, he or she will want you to feel comfortable and will be happy to take things slowly.
With the help of TrueView, people everyday are successfully connecting with others and finding that special someone for them, so why not get started now?